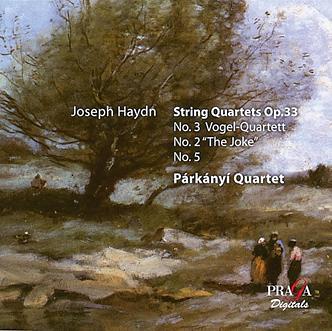 The Strad Issue: January 2007
Musicians: Párkányí Quartet
Composer: Haydn
The Párkányí Quartet finds just the right blend of naivety and Classical poise in Haydn's Quartet op.33 no.3, with its acciaccatura bird-pecking in the first movement, delightful clipped violin duet in the second movement trio, and staccato dancing in the finale. The timeless Adagio at its heart is faultlessly paced, the playing spare and clean, as the first violin plays its ever-more elaborate variations, sensitively shaped by István Párkányí. These attributes of great subtlety achieved with the lightest of touches, of clarity of texture, of simplicity and of timelessness are features of all three performances.
After the fun in the first movement of the E flat major Quartet op.33 no.2 there is an unhurried grace about the Scherzo, and an effortless poise to its elegant trio. The Largo has a meditative quality, as if it has all the time in the world, which the loud chordal interjections do not dispel. The first violin has the lion's share of the limelight in all these quartets, and Párkányí plays with an unfailing sensitivity to phrasing, illuminating Haydn's lines with flexible and intelligent playing. There are moments of extreme beauty.
The Largo of the G major Quartet op.33 no.5 has a beguiling silkiness to it, its long lines and slow crescendos perfectly crafted by both Párkányí at the top and his eloquent companions, making wonderful music with their outwardly mundane lines. In a nutshell, what they do is let Haydn speak for himself, and who could do it better? The sound is close in and resonant, giving body without getting in the way.
TIM HOMFRAY