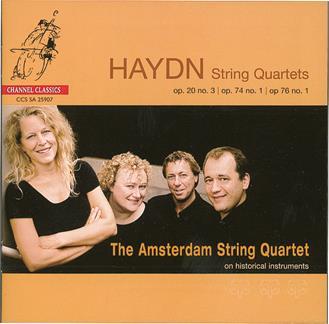 The Strad Issue: January 2008
Musicians: Amsterdam Quartet
Composer: Haydn
That the players of the Amsterdam Quartet employ gut strings and use period bows is obvious from their highly distinctive tonal quality, and the avoidance of vibrato etches every nuance of their interpretations with total clarity of purpose. The description on the cover that the performances are 'on historical instruments', is, however, misleading as in reality the viola and cello are simply copies made within the last decade.
The op.20 quartets are considered the point at which Haydn reached maturity, though for all the transparency of the G minor work its placing in the context of two later works reveals the much greater warmth of texture that he introduced by the time he reached op.76.
The Amsterdam Quartet's tempos are well chosen throughout, and the players add their own individuality in terms of expressive subtlety of pulse. They are not averse to rounding off phrases with a distinct slowing, which becomes a feature in their shaping of the second movement in the G minor Quartet. Dialogue passages demonstrate the exemplary internal balance, but at times the articulation in finales does sound unduly rushed, and the exactitude of passages that rapidly cross strings is not always true. If quieter passages lean towards a slowing of tempo, the keen observance of dynamics is a welcome feature of the performances.
Without vibrato intonation is left naked, and some quirks will detract on rehearing. In such a crowded market I would continue to collect the immaculate period-dress performances from the Mosaïques Quartet (Astrée Naïve) in its ongoing Haydn series.
DAVID DENTON