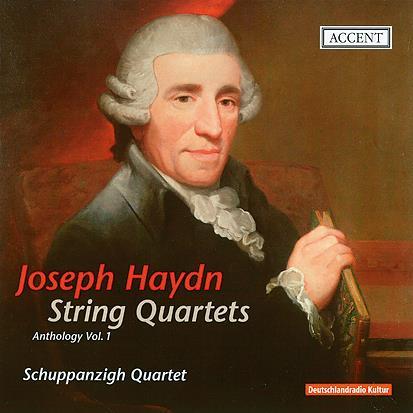 The Strad Issue: January 2010
Musicians: Schuppanzigh Quartet
Composer: Haydn
This stimulating first volume of the Schuppanzigh Quartet's projected three-part Haydn anthology showcases period-instrument chamber playing of the highest calibre. With Anton Steck at the helm, these performers communicate directly and powerfully and imbue their interpretations with imaginative phrasing, subtly varied timbres and a winning spontaneity.
The Schuppanzigh players convey the contrasts of articulation embedded in the opening Presto of op.9 no.6, exploit a wide dynamic range in the ensuing minuet and trio and dispatch the throwaway finale with energy and wit. Steck negotiates the Adagio's stratospheric violin writing with precision and poise, adding an appropriate cadenza near the close. A similar poise graces these players' account of the Andantino of op.74 no.1, with its subtle dynamic contrasts, and they revel in the rustic drone effects and contrapuntal development of the same work's finale. They perform the restless outer movements of op.50 no.6 with keen exuberance and draw full value from its slow movement's dynamic contrasts, unusual emphases and dramatic digressions to remote keys.
The recording combines immediacy with an attractive ambient warmth, even if the balance does cellist Antje Geusen few favours. The occasional impurity of intonation or scrambled shift is a small price to pay for performances of such colour, character and individuality.
ROBIN STOWELL