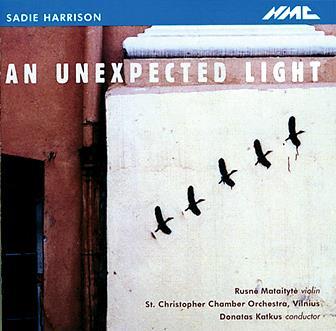 The Strad Issue: January 2007
Musicians: Rusne Mataityte (violin), Arturas Silale (violin)‡, Vitalija Raskeviciute (viola)‡, Edmundas Kulikauskas (cello)‡¶, Sergejus Okrusko (piano)† , Albina Siksniute (piano)¶ St Christopher Chamber Orchestra, Vilnius, Donatus Katkus (conductor)*
Composer: Harrison
Sadie Harrison's assimilation of what used to be known as folksong is much more in the mould of Vaughan Williams and Bartók than Canteloube or the Silk Road Project. An absorbing Metier CD explored her interest in Afghan music, here it's Lithuania; in both cases, the indigenous cultures retain their musical identity in the context of a personal language, and they are never overdressed by their concert-hall clothes. There are six substantial pieces, written between 2003 and 2005 and packed with notes and ideas. Every bar has something definite to express – partly it may be Harrison's own language, partly that of her found material. The expression tends towards the poles of reflective self-communion (open, naïve consonance) and aggressive lamentation (modal harmonies shot through with disruptive polyrhythms and fierce dissonance) with little mediation between the two. The works range in complexity from the fantasy-like violin concerto An Unexpected Light to straightforward folksong settings for the solo violin of Rusne Mataityte.
Mataityte always catches the improvisatory character of the writing, its very changeable moods and songfulness, and her fellow Lithuanians offer idiomatic support. Most impressive is Geda's Weavings, where the string quartet genre demands a focused exchange of ideas that's not always evident elsewhere. The disc winds down to a more soothing conclusion with two cycles of miniatures, …an angel reads my open book… and The Bride's Journey. It's powerful stuff, evoking a world of village weddings and wartime horrors, captured with unflinching clarity by the producer and dedicatee of the disc, David Lefeber.
Peter Quantrill