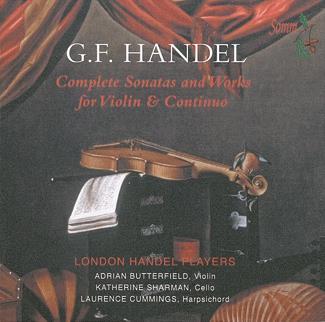 The Strad Issue: January 2008
Musicians: London Handel Players
Composer: Handel
The past thirty years have seen many efforts to resolve the uncertainty surrounding the authenticity of Handel's published violin sonatas. It was a situation created by the original publisher's misrepresentation of the music he was offering, and compounded by the composer's penchant for using material from earlier works in creating 'new' compositions. Somm believes it now has a definitive first complete recording of the six sonatas Handel intended for violin. That basically involves adding the A major Sonata HWV367, previously ascribed for recorder, to the five violin sonatas we often find on disc..
Having arrived at this scholarly conclusion, the London Handel Players then muddy the situation with the inclusion of a debatable cello continuo that often assumes the role of a duo string partner – the recording weights Katherine Sharman's instrument so as to create that partnership
The performances have the sprightliness we equate with good Baroque style, and though at times they are rather polite in their avoidance of dynamic extremes, they are shaped with a thoughtful musicianship. Adrian Butterfield's violin sings eloquently in the slow movements, yet still retains that pungency of gut strings as his nimble fingers dance through Handel's lively finales. I am pleased he avoids those exaggerated accents on double-stopping that we often encounter in these sonatas, and his cross-string passages are perfectly handled. The distinguished harpsichordist Laurence Cummings is heard in a supportive capacity that yields to the cello's prominence.
A previously unrecorded Allegro (HWV407) is included among six short works that complete the release. The sound is dry but ideally delineated.
DAVID DENTON