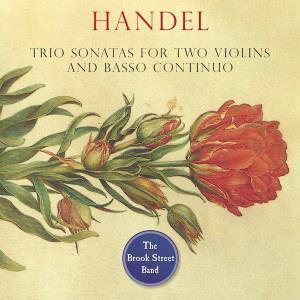 The Strad Issue: June 2016
Description: Neat and energetic birthday performances of Handel's trio sonatas
Musicians: Brook Street Band
Composer: Handel
This 20th-anniversary disc completes the Brook Street Band's traversal through Handel's trio sonatas. Its seven works span the breadth of the composer's career and include a chamber version of the overture to Esther and a work that shares some material with another oratorio, Saul; indeed, playing 'spot the recycled melody' is often a challenging diversion for listeners.
These performances may not set the world alight but they are committed, lucid and enjoyable. Period violinists Rachel Harris and Farran Scott interact neatly and spiritedly throughout, bringing to these works a natural feeling for style and an unobtrusive sophistication that cannot help but charm. However, they might have been more adventurous with their dynamic variation and extempore ornamentation. Pacing is generally comfortable and they dispatch the fast movements with a commendable unanimity of purpose and ensemble, light textures and neat articulations.
Especially remarkable are the final Allegros of HWV392 and HWV393, and the energetic manner in which cellist Tatty Theo and harpsichordist Carolyn Gibley drive the fugal first Allegro of HWV392 through to its dramatic and surprisingly chromatic conclusion. The church recording is spacious, resonant and judiciously balanced.
Robin Stowell