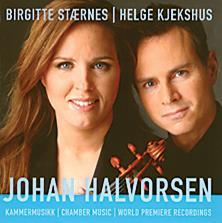 The Strad Issue: January 2012
Description: Melodiousness rather than pyrotechnics dominates a disc of Norwegian violin music
Musicians: Birgitte Staernes, Berit Cardas† , Yi Yang¶ (violin) Povilas Syrrist-Gelgota‡ (viola) Frida Fredrikke Waaler WaervŠgen¶ (cello) Helge Kjekshus (piano)*
Composer: Halvorsen
Johan Halvorsen, a virtuoso violinist himself, is probably best known today among fiddle players for his arrangement of Handel's Passacaglia for violin and viola. That isn't here, but we have its successor, a Sarabande with Variations, also based on Handel, a set of increasingly demanding sections that gets shot of Handel early on. The work suggests a great melodic and technical imagination at work and violinist Birgitte Staernes and violist Povilas Syrrist-Gelgota perform it with great spirit and assurance.
There is a fund of winning melody on this disc, some of it original, some drawn from Norwegian folk music. The two first works, Crépuscule and Élégie, are simple and elegant, demonstrating Staernes's lyrical gifts. The Air norvégien is a more virtuosic affair, much admired by Grieg (who was Halvorsen's uncle-in-law) and comes complete with witches, trolls and a goodly amount of double-stopping and harmonics, which Staernes dispatches with style and aplomb. They are not the only trolls, and there are other opportunities for Staernes to show off her great technical skills: the Caprice for two violins is another dazzling romp, and includes a stomping dance. But overall, this is not a pyrotechnic display but a collection of wonderfully attractive and inventive music, beguilingly played. The sound is forward and clear.
TIM HOMFRAY