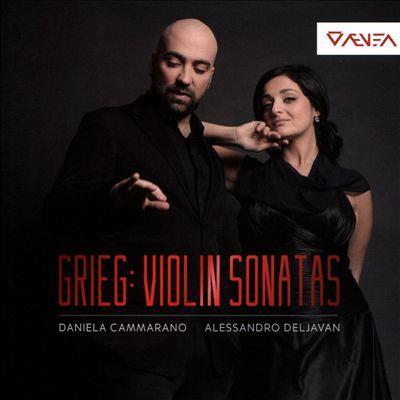 The Strad Issue: February 2016
Description: Admirable playing – but it can't match up to the competition
Musicians: Daniela Cammarano (violin) Alessandro Deljavan (piano)
Composer: Grieg
Daniela Cammarano and Alessandro Deljavan offer commendable, thoughtful readings, rising to the various challenges of the fast movements and responding well to the abundant lyricism in the slower ones. Their characterisation of these works' various folk and dance elements, their sense of timing in articulating inner structure and phrasing, and their expansive expressive range are especially admirable. They are both feisty and poetic as the mood turns in the outer movements of nos.2 and 3, and some of their pianissimos are magical, notably in the first movement of no.1 and in no.3's lyrical centrepiece.
However, Cammarano is sometimes guilty of snatching at chords and overplaying in certain fortissimo passages, resulting occasionally in some distortion of pitch. Intonation can also veer towards the sharp side of true, and she demonstrates an unusual penchant for natural harmonics, even in significant melodic contexts. The recording, lifelike and generally well balanced, includes some extraneous sounds, which are particularly noticeable in the finale of no.1.
This disc might earn a qualified recommendation were there no deserving available alternatives; but there are plenty, including one by Norwegians Henning Kraggerud and Helge Kjekshus (Naxos). For me, though, Augustin Dumay and Maria JoÁo Pires (DG) still take some beating.
Robin Stowell