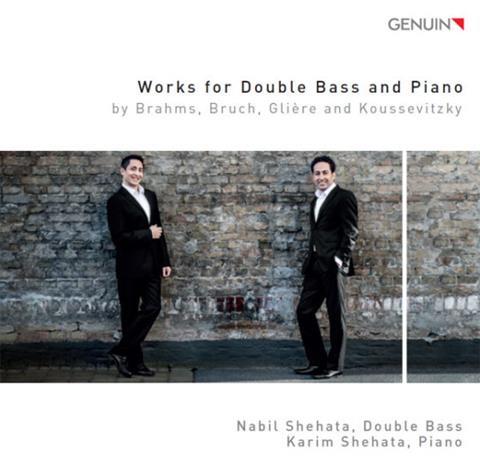 The Strad Issue: June 2017
Description: Virtuoso double bassist gives cellists a run for their money
Musicians: Nabil Shehata (double bass) Karim Shehata (piano)
Composer: Glière, Koussevitzky, Bruch, Brahms
Catalogue Number: GENUIN GEN 17448
This recording of the E minor Cello Sonata by Brahms, as played on the double bass by Nabil Shehata, can stand comparisons with those by any cellists one might care to mention. Shehata, a former principal player with both the Berlin State Opera Orchestra and the Berlin Philharmonic, performs the solo part at the original pitch – except for some spectacular, carefully placed plunges into the deep – with no tonal compromises whatsoever. In fact, the resonance of the larger instrument's body even contributes to the luxuriant richness of the sound.
The brothers Shehata – Karim's sensitive contribution at the piano deserves special praise – take broad tempos but sustain them with no slackening of tension. Aided by a vivid recording, Nabil's clear articulation makes even the notorious final fugue easy to follow.
Bruch's setting of the Jewish prayer Kol nidrei obviously holds a special significance for the Shehata brothers, who perform it with awe-inspiring intensity. In comparison, the short salon pieces by Glière and Koussevitzky also included – which were, of course, composed originally for the double bass – are small beer indeed, but nevertheless lovely. They fit the instrument like the proverbial glove and, particularly in the Shehatas' winning interpretation, leave one wishing that this none-too-long CD had included a couple more of them.
Carlos María Solare