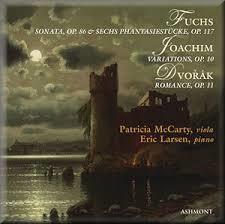 The Strad Issue: January 2013
Description: Stylish playing of music written in the shadow of Brahms
Musicians: Patricia McCarty (viola) Eric Larsen (piano)
Composer: Fuchs, Joachim, Dvorák
At just under 80 minutes, this CD is brim-full with late Romantic music by composers from Brahms's circle. Robert Fuchs's music can't quite emerge from beneath the great man's shadow, but then there are certainly worse shadows to be under. Fuchs's Sonata, written in 1899, is deliciously crafted in the time-honoured sonata form, confirming Brahms's encomium of his younger colleague. The Phantasiestücke, dating from 1927 (the year of Fuchs's death), look even further back: the theme of the concluding variations could come from a Mozart sonata. Although he also uses traditional forms, Joseph Joachim is very much his own man, and he unashamedly shows his Hungarian roots even when variating a chorale-like theme. Antonín Dvorák's Romance is, of course, a piece for violin and orchestra, and loses something by being transposed a 5th down and played with piano. I wish the CD time had instead been used to respect Joachim's original scheme of repeats in the Variations (none are observed here).
With this off my chest, I enjoyed this realistically recorded recital very much. Patricia McCarty is a stylish performer who uses the beautifully dark tone of her viola to characterise the music to its best advantage. She and Eric Larsen achieve some moments of breathtaking beauty that are all the more convincing for the viola not being unduly spotlit.
CARLOS MARÁA SOLARE