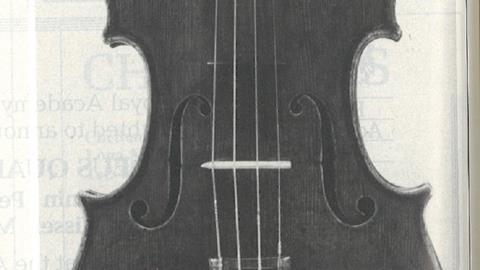 This illustration of an 1805 violin by Nicolas Lupot was published in The Strad, September 1985. The following text is extracted from the article accompanying the photographs:
Despite sporadic indications to the contrary, the economic recession promises to stay with us for a while yet. Unlike the famous crash of 1929, our situation arrived much less dramatically: the bottom did not so much drop out of thje market as show a steady decline. Most major dealers in the fine arts have reported a percentage drop in sales of 25%-30% and fine musical instruments have been no exception to this trend. The push and pull of the market has resulted in an ever-widening gap between 'asking' and 'sales' prices.
Although plagued by similar difficult economic circumstances, the two major centres of London and New York show important differences. Specialised instrument sales in New York are a relatively recent thing compared to London. Consequently, Sotheby's and Christie's have found that in order to get consignments in New York they very often have to allow unrealistically high reserves. At Christie's sale on June 18 they openly admitted that the overall high reserves were responsible for a large portion of their unsold lots.
Sotheby's sale the next afternoon, June 19, fared considerably better. Being the second of two sales in as many days, they were in a position to take full advantage of the fact that many had husbanded their bidding very carefully the previous afternoon. Certainly the mood appeared buoyant and bidding moved briskly through the first two dozen lots.
Two large and boldly-modelled violins by G.B. Guadagnini and Nicolas Lupot kindled considerable enthusiasm with the 1805 Lupot making $38,500. The Lupot showed evidence of extensive restoration but this had been so well carried out that it was all but invisible and the broadly sumptuous tone unhampered.