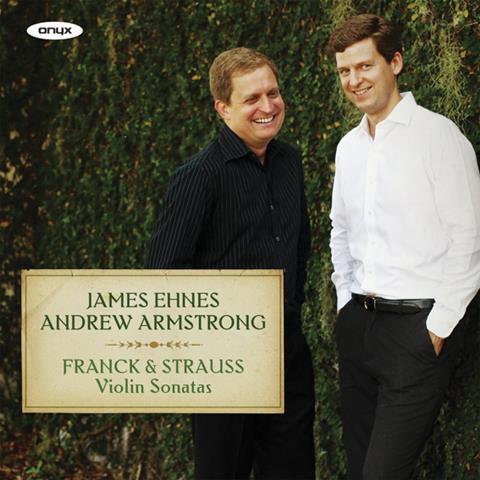 The Strad Issue: September 2015
Description: Thrills without spills in this pair of high-Romantic violin sonatas
Musicians: James Ehnes (violin) †¨Andrew Armstrong (piano)
Composer: Franck, R. Strauss:
Some play the first movement of Franck's Violin Sonata as a reverie; others give it impulse and purpose. James Ehnes and Andrew Armstrong, a terrific team, do both, giving direction to the questioning harmonies and the shifting melodic shapes until they come to thrilling cadences. They play the second-movement Allegro as if they have the devil at their heels, whereas the lyrical passages, while beautiful, give little repose. After the drama of the Recitative and Aria, played with vibrato-laden angst, the finale has just the right combination of clarity, which its canonic writing requires, and emotional release.
The first movement of Strauss's Sonata sweeps grandly forwards, its moments of relaxed melodic charm only heightening the theatrical brilliance. The sweet-toned simplicity at the opening of the second-movement Improvisation comes as a refreshing balm, as do the caressed coquetries and arabesques that follow, before the operatic torrent of the finale, which is very grand indeed, with some delightful scherzando skittishness along the way. Andrew Armstrong tackles the fiendish piano parts of both these sonatas with aplomb.
The short Allegretto, a work of 18th-century elegance which Strauss wrote almost at the end of his creative life, has warmth and grace, as do the song arrangements that close the disc. The recorded sound is rich and clear.
Tim Homfray