The Strad's editor Emma Baker introduces the October 2022 issue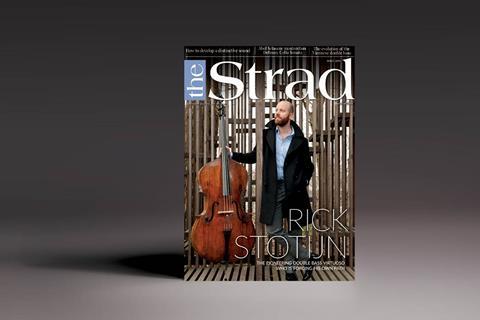 This October in The Strad we celebrate the versatility of the double bass. Often regarded as the bedrock of the orchestra, the instrument is now regularly seen in the solo spotlight, with repertoire embracing all genres.
Double bassists tend to be pioneers by nature, given the eclectic repertoire of their instrument, and Rick Stotijn is no exception, combining a career as a soloist, recording artist and chamber musician with principal bass posts
in several major European orchestras. On page 26 he talks to Kimon Daltas about everything from musical dynasties and the benefits of entering competitions to playing Bach, Vivaldi and heavy metal arrangements.
On page 32, bass maker and restorer Alex Kanzian looks at the evolution of the Viennese double bass in the 18th and 19th centuries. These instruments had several distinguishing features that marked them out from their Italian counterparts, from their elongated contours to their high archings and flat backs.
Australia boasts an increasingly impressive collection of stringed instruments, and for The Strad Calendar 2023 we travel to the southern hemisphere to take a closer look at some of these treasures, including a Gasparo da Salò double bass with a remarkable 700–year provenance, having been made c.1585 using wood from a 250-year-old tree. On page 52 Christian Lloyd explores its history, along with eleven other instruments owned or played by Australians, from the 1743 'Carrodus' Guarneri 'del Gesù' played by Richard Tognetti, to Pekka Kuusisto's c.1709 'Scotta' Stradivari, on loan from an Australian owner.
Whatever instrument you choose, however, one of the ultimate goals for any musician is to develop a distinctive and individual way of playing. On page 46 Charlotte Gardner speaks to some of today's top soloists about how to nurture an instantly recognisable sound, and gets their opinions on who, out of players past and present, does it best.
Emma Baker editor
Email me at thestrad@thestrad.com or tweet @TheStradMag