The Strad's editor Emma Baker introduces the July 2022 issue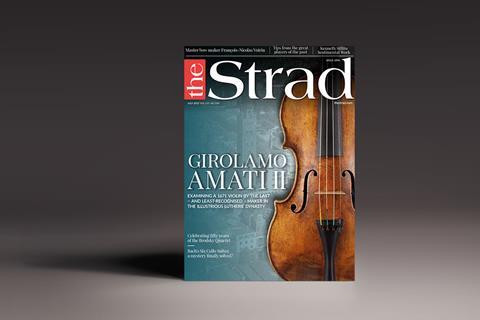 As violin making dynasties go, the Cremonese Amati family produced more than its fair share of extraordinary instruments. Yet its very last maker, Girolamo Amati II – just five years younger than his fellow Cremona-born maker, Antonio Stradivari – has been all but forgotten. He did, however, produce some remarkable violins, such as the 1671 specimen illustrated on the cover of this month's issue. On page 24, Barbara Meyer, curator of instruments at London's Royal Academy of Music, tells his life story and examines this 1671 violin and another of the precious instruments by Girolamo II in her charge.
Continuing this month's focus on historic instrument making, on page 50 we turn our attention to bows, where Matt Wehling presents the first of two articles about the highly influential bow maker François-Nicolas Voirin, whose legacy and reputation continued well into the 20th century.
Learning from 20th-century traditions is no bad thing, and on page 46 Charlotte Gardner speaks to a variety of today's players who discuss some of the 'lost arts' of string playing, often learnt through their own lineage of teachers. These might be a particular way of executing a shift, or something as simple as the willingness to take risks when performing.
And while on the subject of risk-taking, no one could accuse the Brodsky Quartet of shying away from a challenge. So fresh and adventurous is this group it is hard to believe that it is celebrating its 50th anniversary in 2022. The Brodsky musicians continue to enjoy their place at the top of the concert and recording world, whether that is playing the cornerstones of the string quartet repertoire or creating ground-breaking contemporary collaborations with their diverse partnerships. On page 32, Amanda Holloway speaks to them about their past, present and future.
Emma Baker editor
Email me at thestrad@thestrad.com or tweet @TheStradMag