The German musician replaces Tine Dill, who has performed with the ensemble for 13 years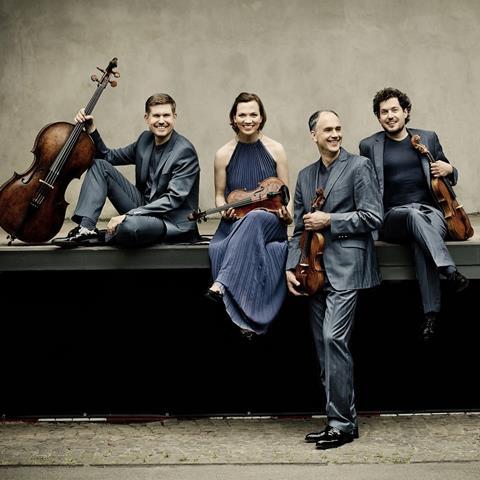 The Signum Quartet has announced that Florian Donderer (pictured, second right) has been appointed its new first violinist with immediate effect. The German musician, who has already played a number of concerts with the ensemble this season, replaces Tine Dill, who has performed with the quartet for the past 13 years.
A statement on the quartet's website reads:
'After 13 beautiful and intensive years of communal music-making with Tine Dill, we are saddened to announce her departure from the quartet and the closing of a significant chapter in our existence. We'd like to thank her for the part she has played in bringing the quartet to where it is now – without her unique personalty and musicality, her zany sense of humour and not least her wonderful playing this would have been unthinkable.
'We are at the same time tremendously excited to be able to welcome Florian Donderer into the quartet as our new first violinist. Florian is a wonderful violinist and a vastly experienced chamber musician and has impressed us with his electrifying playing and particular approach to music.'
Donderer is a longstanding member of Ensemble Oriol Berlin and has been concertmaster of the Deutsche Kammerphilharmonie Bremen since 1999. He is also a frequent guest with such orchestras as the Scottish Chamber Orchestra, Kammerorchester Basel, Camerata Bern, Festival Strings Lucerne as well as the Filharmoonia Tallin.
Read: Signum Quartet selected for BBC New Generation Artists 2011-13