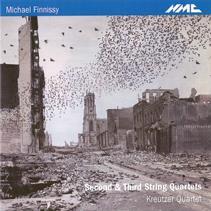 The Strad Issue: January 2012
Description: Glowing accounts of two modern British quartets with Austrian models
Musicians: Kreutzer Quartet
Composer: Finnissy
Following its first disc of music by the contemporary British composer Michael Finnissy back in 1998 (Métier), the Kreutzer Quartet's second traversal of the composer's oeuvre is a quiet triumph. The players' remarkable commitment and searing intensity prove a near-ideal match for the composer's slippery yet arresting music, which seems to slide in and out of focus with both tonality and its eclectic references.
The Third Quartet's influences are the unlikely combination of Bruckner symphonies (reflected in the work's expansive 45-minute length) and British birdsong, which gradually takes over in the piece's second half. It's a serious-minded work, and the Kreutzer players have the measure of its grand scale and inexorably developing ideas. There's a rich, Romantic-sounding sheen to their playing that's entirely in keeping with Finnissy's highly charged harmonic world, and their ability to maintain such gripping intensity over long stretches is nothing short of astonishing.
The shorter Second Quartet is based around Haydn's 'Lark' Quartet, which seems to come into fractured focus at certain points. There's no score, simply four solo parts, which the composer intends should drift in and out of alignment with each other – giving the Kreutzer players the ideal opportunity to let rip as soloists while retaining their polished corporate sound. Cellist Neil Heyde has a beautifully glowing timbre in later sections, and there's some startling soloistic playing from violinist Peter Sheppard Skaerved.
Recorded sound is warm and truthful throughout, although very close in the Second Quartet, where sniffing and page-turns are sometimes a little distracting.
David Kettle