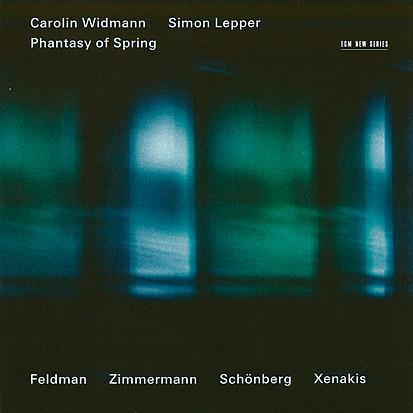 The Strad Issue: January 2010
Musicians: Carolin Widmann (violin) Simon Lepper (piano)
Composer: Feldman, Zimmermann, Schoenberg, Xenakis
Although the booklet note talks about a 20th-century crisis in music for violin and piano, in the hands of young German violinist Carolin Widmann the four sharply contrasting works on this impressive new disc allay any such concerns. Throughout, Widmann strikes just the right balance between cool, objective technical efficiency and passionate drama, never overplaying a work's gestures and letting the music speak for itself.
In Schoenberg's Phantasy op.47 (1949), Widmann responds to the work's rapid mood shifts effortlessly, aggressive one moment and coquettish the next. Zimmermann's Violin Sonata, written just a year later, occupies a very different, pluralistic world of rumbas, marches and jazz, and Widmann gives an impressively clear and focused performance. While she might err on the side of coolness in the first movement, she lets rip with a rich tone in the third movement's volatile syncopations.
Xenakis's Dikhthas (1979) is a formidable challenge, with screaming, siren-like glissandos, ear-bending microtones and gruff bow strokes near the frog, but Widmann responds with playing of real power and passion, holding her own against the often mercilessly aggressive piano part, superbly delivered by Simon Lepper. Feldman's Spring of Chosroes (1978) couldn't be more different: its semi-repetitive figures exist on the border of silence and seem intent on expressing nothing, but rather simply existing, yet Widmann produces a generous performance with a finely judged variety of articulations that bring a quiet eloquence to the music.
Violin and piano are recorded very much as equal partners, which results in the violin being a little recessed at times.


David Kettle