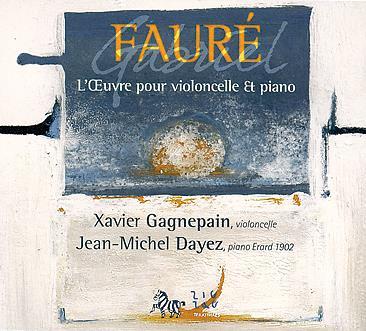 The Strad Issue: January 2007
Musicians: Xavier Gagnepain (cello) Jérémie Billet (cello)* Jean-Michel Dayez (piano)
Composer: Fauré
All cellists have a special relationship with Gabriel Fauré at some point in their lives, whether it's sitting on a school stage playing the Élégie or Sicilienne, or learning salon pieces like Après un rêve, or the two late sonatas. He wrote so much for cello – and here it all is, Fauré's complete cello oeuvre on one disc, even down to a charming sight-reading exercise for two cellos.
The booklet photo of Xavier Gagnepain, a pupil of Maurice Gendron, and Jean-Michel Dayez reclining on a grassy slope sets a scene of relaxed informality. Musically, though, Gagnepain leans forward rather than back, ever ardent and pushing onwards, so that some of the genre pieces feel almost hurried through. Papillon in particular left me giddy, the cello always a fraction ahead of the piano.
Impressive throughout are Gagnepain's focused tone and well-rounded phrasing. The First Sonata op.109 opens in fiery fashion. It's an elusive work at times, but Gagnepain caresses its fragmented interjections into life over Dayez's rippling piano accompaniment. The cellist plays the middle-movement theme with a hooded tone high on the D string, his light bow stroke and rapid vibrato creating a distant, haunting effect.
Op.117 is the easier and more lyrical of the two sonatas. Gagnepain plays the first movement with ease and fluidity, but reserves the best for the Andante – the expressive high point of the disc, rendered with a sustained tone that gets even creamier as the movement progresses – and some lovely expressive leaps. The recording is well balanced with a warm ambience.
JANET BANKS