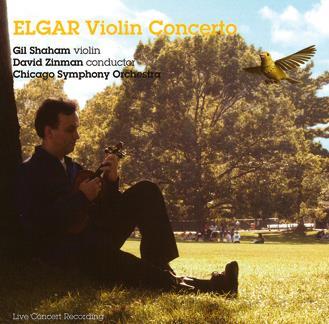 THE STRAD RECOMMENDS
The Strad Issue: January 2009
Musicians: Gil Shaham (violin) Chicago Symphony Orchestra, David Zinman (conductor)
Composer: Elgar
There is some devilishly fine fiddle playing on this CD. With the Chicago Symphony Orchestra under David Zinman in stylish attendance, Gil Shaham turns in a blistering live performance of Elgar's Concerto that, judging from the cheers at the end, seems to have knocked the socks off the audience (or one lot of them: the recording is compiled from two concerts). He plays throughout in a state of high dramatic intensity, whether in the grips of vehement passion or of hushed ecstasy. At full flow he borders on the aggressive, with brilliant, muscular playing perfectly matched by the orchestra.
The Chicagoans build up a powerful head of steam towards the close of the first movement: the final two chords sound like the end of a grand opera with everybody dead. But what probably made it so compelling in the concert hall has its drawbacks on a recording, as this heightened emotional state is maintained over 50 minutes. There are times when Elgar asks for more and there isn't much extra to give.
Portamento is a constant feature, signalled in the orchestral opening by some heroic leaps in the second violins, and Shaham makes liberal use of it, mostly to good effect, although there is a horrible example in the cadenza when he swoops down from the stratosphere into a reminiscence of the first movement. He is very close-miked, which can be exciting, but does mean that his breathing is audible during his exquisite sotto voce playing. Despite such reservations, this is a thrilling performance.
TIM HOMFRAY