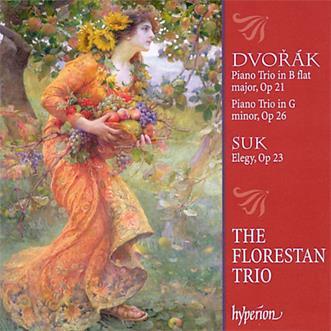 The Strad Issue: January 2008
Musicians: Florestan Trio
Composer: Dvorák, Suk
Dvo?rák's first two trios are in good hands here. The Florestan Trio has always had the happy knack of both capturing character in an instant and bringing coherence to extended structures. These performances are by turns joyous, dance-like, seductive, introspective and dramatic, and all the while commendably free of self-indulgence, for beneath the surface colour there is serious musical purpose, a sense of clear direction and narrative cohesion.
The extensive first movements of both trios have an almost theatrical intensity, as they press forward through beguiling beauty and ardent rhetoric alike. The G minor Trio in particular generates increasing emotional weight as it veers constantly between lyricism and passion. There is charming naivety later in the trio of the Scherzo, an oasis between the clipped, vital playing of the surrounding presto sections. The slow movement of the B flat major Trio is pure magic, as each player in turn takes the melody with exquisite, supple shaping and pathos, before joining together in playing of lilting sweetness. Throughout these trios, despite the constant unanimity of ensemble, there is a feeling of spontaneity, as subtleties of phrasing in one part are picked up and developed in another.
In Suk's lovely Elegy, written in 1902 in memory of the Czech writer Julius Zeyer, violinist Anthony Marwood and cellist Richard Lester produce dialogues of gentle, bittersweet delight. The recording, too, is superb – the playing forward and clear with just enough bloom to give warmth; and the balance is immaculate.
TIM HOMFRAY