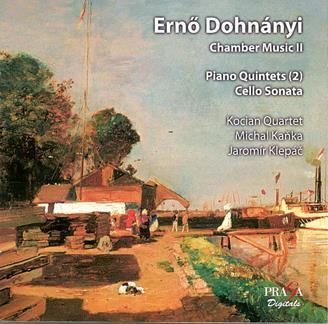 The Strad Issue: January 2008
Musicians: Kocian Quartet, Michal Kanka (cello) Jaromír Klepác (piano)
Composer: Dohnányi
The second volume in a Dohnányi series based around the Kocian Quartet opens with one of the best 'opus ones' in the literature – although the Hungarian pianist and composer had some 70 works already under his belt. No wonder Brahms was impressed. And in a fine performance such as this, the work still amazes.
What a shame this quintet is the least well-recorded piece, giving an impression of slight congestion. However, the piano is well integrated with the strings and the players bring out the uniqueness of Dohnányi's harmonic progressions (pace the booklet annotator, who keeps talking about Brahms and makes mistakes). The performance has one aspect that is new in my experience, a fast tempo for the Scherzo which works well and is as playful as the usual one.
The Cello Sonata is much better recorded, in a different Prague venue, allowing us to savour a superb partnership between Michal Kanka (of the Prazák Quartet) and Jaromír Klepác. The composer makes it difficult for the players by not differentiating his first two movements enough, but they surmount every difficulty and Kanka's phrasing is often delightful.
The Second Quintet, showing Reger's influence, is again well handled by Klepác and the Kocians – string intonation might have been slightly improved, I suppose, but probably at the expense of the intensity we get here. With no real slow movement, it is all the more vital that the most is made of every contrast in tempo and dynamic. The sound is better than in the C minor Quintet.


TULLY POTTER