Despite organisers' efforts, viola competitions rarely make the impact that their violin cousins enjoy. Toby Deller asks whether they should be more proactive in promoting the instrument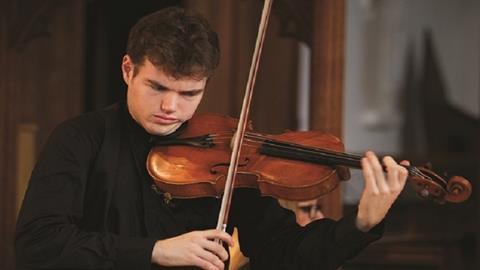 Career-wise, what's the most you can expect after winning first prize at an international viola competition? A job as principal viola, perhaps? Or a place in a string quartet? Or maybe a prestigious teaching post?
It remains to be seen what lies in store for Timothy Ridout (pictured), who won the twelfth Lionel Tertis International Viola Competition in March, following in the footsteps of… well, that's the point. Ridout is the tenth first prize winner of the contest since its inaugural year in 1980 (the top award was not awarded in 1991 and 2000).
But very few of even the first- and second-placed laureates have gone on to enjoy a truly high-profile international reputation. Kim Kashkashian, runner-up to Paul Neubauer in the first competition, is the most obvious exception, but since then, prizewinners have ended up having successful and varied careers, just not as big-name international soloists.
Clearly there could be many reasonable explanations for this. Although the point of solo competitions, presumably, is to identify those able to stand alone, it is possible that the prizewinners simply never had the goal of becoming soloists. After all, it's often said that viola players are more instinctively collaborative, or are conditioned to be, and are therefore more likely to seek work in ensembles. Perhaps the best players simply did not enter – but how many violists have become genuine stars in the international arena in what could be called the post-Bashmet era? Maybe a handful?
More seriously, is it possible that the standard of conservatoire-level viola playing has simply not been high enough to produce a substantial number of stellar players? Or that viola pedagogy has not been adequate to the task of turning exceptionally promising students into world-class performers? Perhaps there are no real incentives for the very best violin students to switch to the viola, so violinists are always the cream of the string playing crop.
It could be that the problem lies in the wider musical world, which has still not properly accepted the viola, its repertoire and its sound (even though people often profess to love it). In a recent interview for The Strad 's website, violist Rivka Golani railed against the poor knowledge of viola repertoire displayed by conductors. And there is still a tendency for critics to write about the viola in underdog terms, sometimes referring to the dubious tradition of viola jokes. Even if they intend to argue that it is a joke no more, it ultimately does the instrument no favours.
If that is the world we face, however, then that is the world we must change. Competition detractors argue that it is always counter productive to focus attention on just one or two individuals and their technical prowess. But even if we accept that viola competitions such as the Tertis are not responsible for this state of affairs, then neither have they had the practical effect of helping the instrument to its deserved prominence.
Do these competitions need to contribute more than just pick winners and leave them to their fate? Do they have a responsibility to promote the instrument between events? To give one example: is it enough that the Tertis Competition's first prize includes a recital at London's Wigmore Hall, when the top winners of instrumental or conducting competitions typically receive multiple concert opportunities? Developing partnerships with venues and performing organisations is one way of not only showcasing the prizewinners but also of increasing exposure for both the competition and the instrument. And more exposure means a greater likelihood that the appreciation of the viola and what it has to offer will grow, and that competition winners can in turn become not only champions of their instrument but also champions for their way of playing, their vision and their artistry.
This article was originally published in the June 2016 issue of The Strad
Read: The history of the viola joke
Read: Is playing the viola a different art from playing the violin?