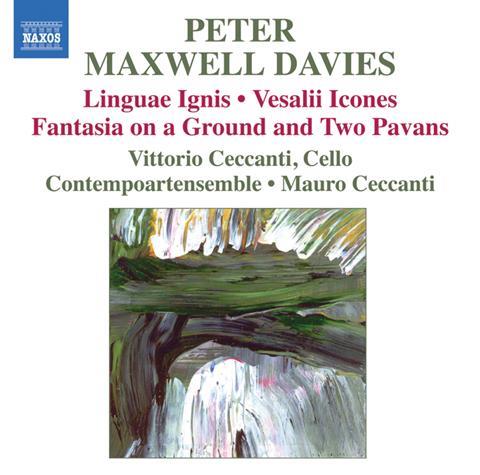 The Strad Issue: January 2011
Description: The solo cello plays a leading role in some theatrical instrumental works
Musicians: Vittorio Ceccanti (cello) Contempoartensemble/Mauro Ceccanti
Composer: Davies
Naxos continues its rich association with Peter Maxwell Davies with works for solo cello and instrumental ensemble, in music that is steeped in ritual. The elegiac instrumental motet Linguae ignis, from 2002, is based on two intertwined plainsongs. Vittorio Ceccanti captures the stillness and serenity of the opening with delicate focus, so that when the ensemble bursts on to the scene, all declamatory trumpet and thudding marimba, the effect is electrifying.
The 40-minute Vesalii icones is an extraordinarily powerful work, written in 1969 (the same year as Eight Songs for a Mad King) for dancer, cello and ensemble (the dancer is instructed to play out the stations of the cross according to a series of poses). The music is rich in percussion and has a raw theatricality that is utterly compelling, from the cadenza-like cello phrases of Christ and Pilate to the murky Sunday School piano of 'The Mocking of Christ', which dissolves into a crazed foxtrot. Ceccanti's performance is gripping in intensity, painting in the fine detail of this most imaginative of music with commitment and an ear for the work's heartfelt sonority.
Maxwell Davies's not-strictly-authentic 1968 realisation of Purcell's Fantasia on a Ground and Two Pavans brings further theatricality and some fine playing from the Contempoartensemble. Recorded sound throughout is bright and true – this is a fine disc indeed.
Catherine Nelson