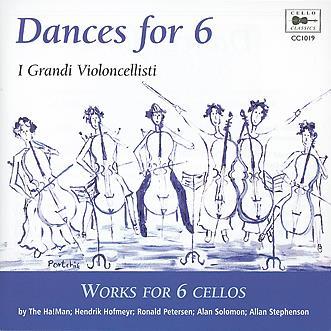 The Strad Issue: January 2006
Musicians: I Grandi Violoncellisti
Composer: A. Stephenson, R. Petersen, Hofmeyr, Ha!Man, Solomon, Trad. (arr Petersen) & Trad. (arr. Martens)
On paper a disc of works by totally unfamiliar South African composers for cello ensemble might not seem an enticing prospect. Yet by utilising imaginative arrangements that explore the huge tessitura of the cello alongside assorted timbres from pizzicato strumming to tremolandos, double-stops and harmonics, there is enough variety to sustain one's interest. Moreover with a strong reference to the folk music of South Africa, particularly in Ha!Man's Down to D, this programme is accessible, though it does lack music of real substance. Nevertheless, with dance rhythms forming the mainstay of the material there are plenty of foot-tapping moments, not least Allan Stephenson's opening Souvenir de Sevillia, which sizzles with Spanish invention, as, in a similar way, does the more acerbic Tango by Hendrik Hofmeyer, where deliciously acid cluster-like chords spice up the dance.
Alan Solomon's two pieces are also effective, particularly Antiphon, which divides the players to create a stereo effect, although I found Down to D rather long-winded. Despite the good ensemble the pitch of the top line occasionally seems fractionally wayward, for example in the traditional number Sarie Marais. Equally, the pizzicato chords of the Scherzo in Stephenson's 4 for 6 are not completely precise, though the playing is sharply drawn in the opening Allegro which, tongue in cheek, doffs the cap to Shostakovich in burlesque mode.
In all the playing is carefully articulated and neat, and the ensemble well balanced, though perhaps the recording is a little close, reducing the dynamic range and impact.
Joanne Talbot