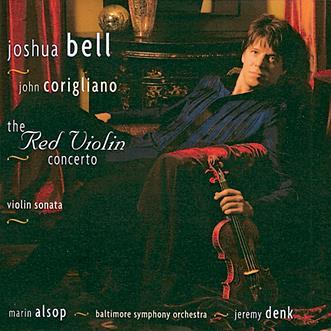 The Strad Issue: January 2007
Musicians: Joshua Bell (violin) Jeremy Dank (piano) Baltimore Symphony Orchestra, Marin Alsop (conductor)
Composer: Corigliano
This seems like the second bite at a cherry. John Corigliano's Oscar-winning score for the film The Red Violin, featuring Joshua Bell, has already appeared on CD. Now here it is again, reworked to become a violin concerto. This is, as one might expect, a dramatic work, and the violin as its protagonist has many characters and moods. Bell, who is almost the star of the film anyway, is the equal of them all. The first movement Chaconne is by far the longest at over 16 minutes. Bell builds through it from its opening, questioning flourishes. There is plenty of gritty passion, and his full double-stopping flight, soaring through a turbulent orchestra, commands attention.
He capers nimbly through the following 'Pianissimo Scherzo', fleet-footed, full of percussive colour and with more than a hint of Chinoiserie. There is a palette of violin colours called for here, of delicate harmonics and ponticello passages, that Bell dispatches with winning delicacy. After the wispy Andante third movement Bell again has to do battle with an aggressive orchestra in another tour de force of scampering virtuosity. But here there is scope also for lyricism, and Bell plays Corigliano's long discursive lines with voluptuous ease. There is some beautiful and compelling music here, well caught in this recording of a live performance (although sometimes Bell is almost overpowered as the orchestra snarls around him).
The Violin Sonata, now over 40 years old, occupies a rather different musical world, dry, urbane, full of angular melody and laced with acerbic humour. Bell and Jeremy Dank tackle its rhythmic and chromatic demands with aplomb, and produce a persuasive performance.
TIM HOMFRAY