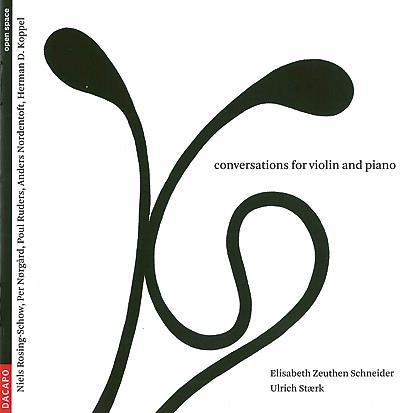 The Strad Issue: January 2010
Musicians: Elisabeth Zeuthen Schneider (violin) Ulrich Staerk (piano)
Composer: Rosing-Schow, Nørgård, Ruders, Nordentoft, Koppel
Elisabeth Zeuthen Schneider presents an interesting trawl of works from Danish composers after the Second World War, including some earlyish Per Nørgård and recent pieces by Poul Ruders.
I found the order a little confusing – somehow with so much unfamiliar territory and such a wide spread of dates I wanted to hear the pieces chronologically. But the opening E Rigidis (1980–1) by Niels Rosing-Schow is immediately appealing, from the angular, detailed precision of the opening movement, with its bursts of lyricism, to the mechanical, de-constructed fragments of the second and third, performed with care and great vitality by Schneider and her pianist, Ulrich Staerk.
After Nørgård's short, searching Fragment V, his Diptychon ushers in moments of disarming, soaring beauty, with both players relishing the fragile warmth of its phrases. The delicately crafted Three Tiny Pieces… by Ruders is haunting and vivid, and Zeuthen Schneider gives a flamboyant reading of the beautiful Bel Canto for solo violin.
Anders Nordentoft's work dates from 1978 when the composer was 22; both performers make much of the play of repetition that underpins its dreamy, floating textures. The final piece is Herman D. Koppel's Ternio (1951), which is almost Debussyian in its expansive gestures and widely spaced piano part. As a whole, the disc is difficult to assimilate, but the players make a strong case for this intriguing music, aided by the warmth and colour of the recording.


Catherine Nelson