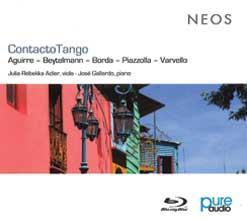 The Strad Issue: January 2014
Description: A sonically vital survey of Argentinian tango repertoire on viola
Musicians: Julia Rebekka Adler (viola) José Gallardo (piano)
Composer: Piazzolla, Varvello, Aguirre, Borda, Beytelmann
The younger composers represented in this overview of Argentinian music are in audible debt to Astor Piazzolla, who is rightly given the lion's share. Two Short Pieces was Piazzolla's first composition after his teacher Nadia Boulanger advised him to go back to his roots. That was in 1949, and Piazzolla never looked back: he became a tango icon, giving the genre a facelift with the style he called 'Tango Nuevo'. Occasionally, Piazzolla wrote for classical performers – Le grand tango is dedicated to Mstislav Rostropovich – and with his Six Tango Studies from 1987 he provided them with an aid to understanding the rhythmical intricacies of his music.
In these unaccompanied pieces Julia Rebekka Adler triumphantly clarifies Piazzolla's syncopations even without a background bass. Here and elsewhere, she employs several recourses of the tango fiddler's stock in trade in a most idiomatic fashion. Obviously she has absorbed appropriate advice from the other composers included here, who have written or arranged their music for her. Miguel Varvello looks back to the pre-Piazzolla style of tango's 'Old Guard', while Pallo Aguirre and Luis Borda are aligned with the 'Tango Nuevo'. Gustavo Beytelmann, who played with Piazzolla in the 1970s, has distilled the tango elements into some original music of distinctive character.
Neos's new-fangled recording technique brings Adler right into one's room and faithfully captures her mercurial timbre and tonal modulations. She is well partnered by José Gallardo, who takes good care of Piazzolla's potentially overpowering piano parts.
Carlos María Solare