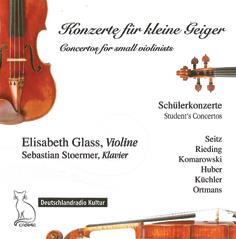 The Strad Issue: January 2011
Description: A showcase for the first steps available for the aspiring concerto soloist
Musicians: Elizabeth Glass (violin) Sebastian Stoermer (piano)
Composer: Huber, Küchler, Rieding, Seitz, Komarowski & Ortmans
I remember at the age of nine asking, somewhat prematurely, to be taught Mendelssohn's Violin Concerto. I guess all young violinists have the urge to play a work with the 'concerto' name, though I doubt they would be easily persuaded that Adolf Huber's Concertino is anything but a study piece.
This disc of works designed for younger players is effectively graded in difficulty, and after the Huber come likeable concertinos in three movements by Ferdinand Küchler and Oskar Rieding, probably suitable for the second and third years. Then in a leap forward to quite difficult scores that also offer the student pleasing melodic material, Friedrich Seitz's Concerto offers sufficient dramatic content to please any youngster. They will have reached an advanced stage for Anatoli Komarowski's First Concerto, the work of a Russian-born composer that is delightful in any context.
With impeccable intonation and thoughtful shaping of phrases, the disc is excellently played by Elisabeth Glass, the concertmaster of the Deutsche Oper in Berlin. I do find the enclosed booklet rather inadequate in offering any educational details that should support such a release, however. Her partner, Sebastian Stoermer, shows that giving a child a bold accompaniment is helpful in creating the concerto experience. Excellent sound.
DAVID DENTON