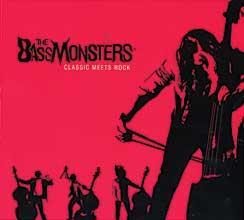 The Strad Issue: January 2014
Description: A double bass foursome tackles some rock classics with relish
Musicians: BassMonsters: Thomas Jauch, Claus Freudenstein, Giorgi Makhoshvili, Stephan Bauer (double bass)
Bring together four middle-aged male double bass players and put them in a studio to record a side project, and the resulting album is likely to be something along the lines of 'Classic Meets Rock'. The BassMonsters, a quartet of bassists from southern Germany – including the leader of the bass section of the Bavarian State Opera, Thomas Jauch – plays high-octane covers of rock songs of the kind that feature in driving compilations. As such, songs like Sweet Child O'Mine by Guns 'n' Roses, Michael Jackson's Thriller and Hotel California by the Eagles all feature here.
'Classic Meets Rock' is undeniably corny, but also good fun. 'Bassmonster' Claus Freudenstein is the brains behind the band, adapting the songs and producing the disc, both of which are professionally handled. His arrangements make good use of extended techniques and demonstrate the breadth of sound and texture a group of double basses is capable of creating. Freudenstein's own composition on the album, Netclip, the only track here that is not a rock cover, is the album's most substantial number, a long-form mainly solo piece that moves from instrument-tapping percussion to elongated pizzicato and bowed passages – all successfully underpinned by studio effects. Like the rest of 'Classic Meets Rock', the piece boasts top bass technique and a love for the overblown sensibility of classic rock.
Tim Woodall