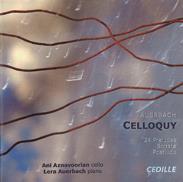 The Strad Issue: January 2013
Description: Be prepared for a non-stop emotional rollercoaster ride – and then relax
Musicians: Ani Aznavoorian (cello) Lera Auerbach (piano)
Composer: Auerbach
Despite the astonishing performances, this disc of cello-and-piano works by US composer Lera Auerbach makes for exhausting listening. Her music lives at a relentless emotional extreme, and an air of grotesqueness or bitter irony lies behind much of what she writes. In the 24 Preludes (1999), for example, she takes gleeful delight in slowly destroying a pleasant cello melody with aggressive piano cluster chords, or in exaggerating Baroque or Romantic gestures to the point of ridiculousness. Moods are anguished and desolate, or angry and aggressive, with little in between.
It's a tough emotional world to sustain for the work's 50-minute stretch, especially in individual pieces that often last little more than a minute. But young US cellist Ani Aznavoorian manages it magnificently in scorchingly committed performances that wring every last drop of emotion out of the music. Her technique is well-nigh immaculate, she has a natural sense of theatre, and her tone is astonishingly responsive – in the opening of the first prelude alone, for example, she turns her cello into something like a wailing voice.
Auerbach's Cello Sonata of 2002 maintains a similar sound world, but Aznavoorian has the measure of the piece's larger-scale construction with a sure sense of pacing. The closing Postlude spins an even stranger version of one of the earlier Preludes with prepared instead of standard piano. Auerbach herself gives a highly demonstrative account of the keyboard parts, and recorded sound is warm and faithful.



David Kettle