The experimental Israeli-American musician receives a grant of $50,000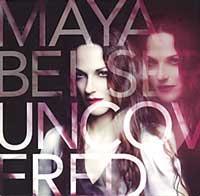 Israeli-American cellist Maya Beiser has been named a 2015 United States Artists Distinguished Fellow in Music. She receives an award of $50,000 to support professional development, and to foster creative possibilities.
The avant-garde musician is one of 37 visual artists, actors, writers, musicians, architects and craftsmen, selected from 400 nominees resident in the US, to receive the prize this year. Artists are nominated by their peers and field experts at all stages of their careers for their 'quality, imagination and enduring potential.'
Known for her project-based recordings and collaborations with a wide range of artists from many disciplines, Beiser is a graduate of Yale University and a founding member of Bang on a Can All-Stars. She has performed at New York's Lincoln Center and Carnegie Hall, Washington DC's Kennedy Center, London's South Bank Centre, the Sydney Opera House, and at the Beijing Festival, and has recorded eight solo albums, including 2010's chart-topping 'Provenance'.
Her latest album, 'Uncovered', featuring 'highly individual treatments' of heavy rock classics was reviewed by The Strad last year, and praised for 'expressive playing' which 'creates new paths for these often well-known melodies'.
Photo: Ioulex