John Kaboff had boarded the flight from Washington DC to Chicago when the pilot asked that he leave the 737 aircraft, he says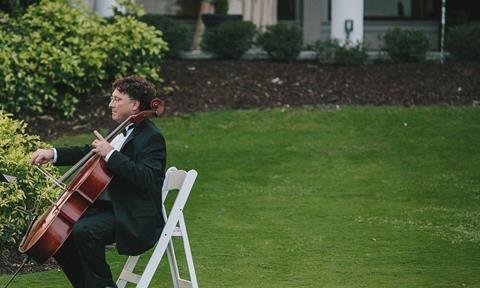 A cellist was yesterday forced to leave an American Airlines flight because cabin staff deemed his cello to be a 'safety risk'.
John Kaboff (pictured) - a former student of János Starker and William Pleeth, and founder of the Kaboff Cello School - had boarded the flight from Washington DC to Chicago when a flight attendant informed him of the pilot's wish that he leave the 737 aircraft, he claims. Kaboff had bought an additional seat for his $100,000 cello but staff, who identified the cello as a 'bass fiddle', maintained it was 'not an approved musical instrument for flight travel,' according to ABC7.
'The cello was not allowed on this particular aircraft. Either I could voluntarily leave, or I could be removed from the airplane,' he said. 'Since it would actually touch the floor a little bit, since it wasn't strapped in, it would pose a safety risk.'
Following the incident Kaboff posted the following message and video on his Facebook page:
'I am at Reagan National Airport [and] I've just been kicked off an American Airlines 737 airplane for buying a seat for my cello. I need to go to Chicago today for work. Unfortunately a flight attendant who makes the decision for the safety of an entire airplane has decided that the cello touching the floor in the bulkhead is not safe. This is where the cello is supposed to sit. According to the American Airlines flight manual the cello is allowed on a 737 aircraft. This is flight 153 to Chicago.'
American Airlines staff later apologised to Kaboff for the inconvenience and booked him on another 737 flight to Chicago.