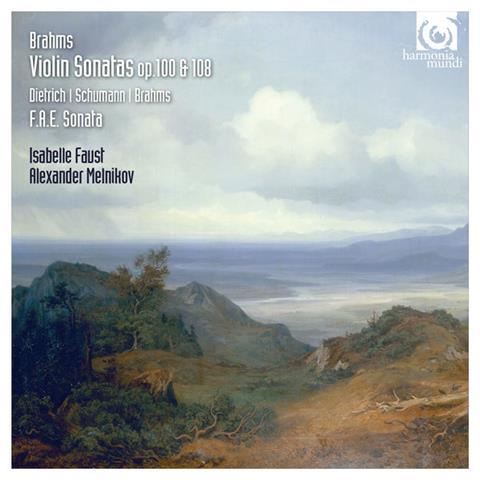 The Strad Issue: November 2015
Description: Faust and Melnikov finish their Brahms survey, eight years on
Musicians: Isabelle Faust (violin) Alexander Melnikov (piano)
Composer: Brahms, Dietrich/Schumann/Brahms, Schumann
Isabelle Faust and Alexander Melnikov complete their Brahms sonata cycle as they started (2007), with Faust playing a gut-strung 1704 Stradivari and Melnikov a restored 1875 Bösendorfer. This is period-instrument rather than historically informed performance; nevertheless, Faust seems determined to avoid the honeyed, cloying tone, portamento-edged, plum-coloured lyricism and overcooked dynamics and vibrato produced by many violinists in this repertoire. Instead, her readings are delicately understated and her tone is unusually reserved and soft-grained, adorned by only sparing vibrato usage; Melnikov's playing, more flexible and expansive, has a striking clarity, mellowness, athleticism and lightness of touch. Both players employ a wide range of nuances and phrase with an unforced naturalness that is persuasive.
Faust emphasises the softer dynamics, notably in the development of op.108's opening movement or in the outer sections of Schumann's op.94 no.2, but there is always an absolute centre to her sound. She is unafraid to let loose with full-blooded fortissimos in moments of passionate intensity, as in Brahms's 'F.A.E.' Sonata scherzo or the triumphant double-stopping in the coda of the Second Sonata's finale. However, the finale of op.108 and Schumann's closing contribution to the 'F.A.E.' arguably deserve more extrovert readings. The recording slightly favours the piano but is otherwise exemplary.
ROBIN STOWELL