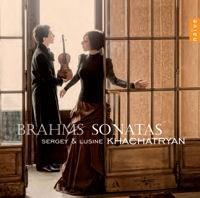 The Strad Issue: January 2013
Description: Brahms playing that is perhaps too self-regarding for comfort
Musicians: Sergey Khachatryan (violin) Lusine Khachatryan (piano)
Composer: Brahms
Sergey and Lusine Khachatryan present Brahms's First Sonata as seen through the eyes of the daydreaming Schumann, with the music often wistful, frequently sad, and on occasion intensely dramatic, but rarely sounding happy, for all the beauty in the playing. Their basic tempos are among the most expansive of the dozen recordings I used for comparison, and they frequently insert changes of pulse. It is as if they seek to interpret every bar, with rhythmic changes employed to beautify or intensify the effect of the music on the listener.
Equally, I find the opening of the Second Sonata's third movement too leisurely, though the score lends itself more readily to the players' expressive rubato. Yet comparing it with the more literal view from Itzhak Perlman and Vladimir Ashkenazy (EMI), I am in doubt that I would prefer to live long-term with their recording.
Sergey Khachatryan's honeyed tone is especially appropriate in the Third Sonata, where the unhurried reading of the lyrical second movement is most rewarding. Also here (at last), the players find bubbling joy in the mercurial scherzo and technically brilliant finale.
The recorded balance gives the pianist more presence than we find in many other recordings, but the engineers provide a wide dynamic range.



David Denton