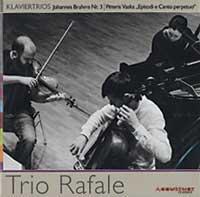 The Strad Issue: January 2014
Description: Two contrasting trios from a young Swiss ensemble
Musicians: Rafale Trio
Composer: Brahms, Vasks
The Zurich-based Rafale Trio offers sumptuous ensemble sound led from Flurin Cuonz's cello, ideal for the bearded Brahms of the Third Piano Trio. The expressive kinship with the 'Double' Concerto has rarely been clearer, with the recorded balance recessing the strings slightly to produce a muted palette of autumnal browns and greys and allowing us to admire superbly weighted playing from pianist Maki Wiederkehr. Relatively swift tempos never preclude the sense of wistfulness at the work's core – 'ripe and wise in its incredible compactness', fellow composer Heinrich von Herzogenberg called it – still sparked into life (especially in the finale) by some modulations astonishing even for Brahms.
The eight movements of the Peter?s Vasks suite sound staid by comparison, its ideas and drama developing at a gentler pace – although, as in the third movement of the Brahms, violinist Daniel Meller and Cuonz's unison and homophonic playing is beautifully matched and even. It's only when you turn to David Geringas and Dmitri Sitkovetsky (Hänssler) that you realise what the Rafale Trio is missing, such as a better controlled and more subtle use of vibrato to colour the ecstatic lines of the sixth movement 'canto perpetuo' that most clearly demonstrates the force of Vasks's subtitle 'Hommage à Olivier Messiaen': quite a thing to write in 1985 Communist Latvia.


Peter Quantrill