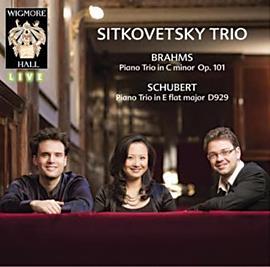 The Strad Issue: May 2015
Description: A worthwhile Wigmore recital coupling 19th-century blockbuster trios
Musicians: Sitkovetsky Trio
Composer: Brahms, Schubert
Named after its violinst, Alexander Sitkovetsky (a relative of violinist–conductor Dmitry Sitkovetsky), this trio is captured in full flight at a Wigmore Hall concert, with scintillating playing with which it is hard to take issue. The recording quality is very fine, though the piano can tend to take centre stage, a matter that would be more troublesome were Wu Qian less brilliant in this role.
So the strings may not have the sustained quality they might have had in concert; but Sitkovetsky and cellist Leonard Elschenbroich do play practically as one. The first movement of Brahms's Third Piano Trio has a solid quality and a measured tempo that suits the rebarbative opening but makes other themes less likely to fly. The Presto non assai is conversely light, mercurial and luminescent, Qian's shimmering touch complemented by nimble string playing that is notably light on vibrato.
The players turn in a neat performance of Schubert's Second Piano Trio, its brilliance streaked by moments of darkness and its formal cohesion contrasted with nicely characterised dances, whether elegant or rustic. There's no let-up in energy in the finale, which bursts with liveliness. These are fine, crystalline performances of which the audience is audibly – and understandably – appreciative.
EDWARD BHESANIA