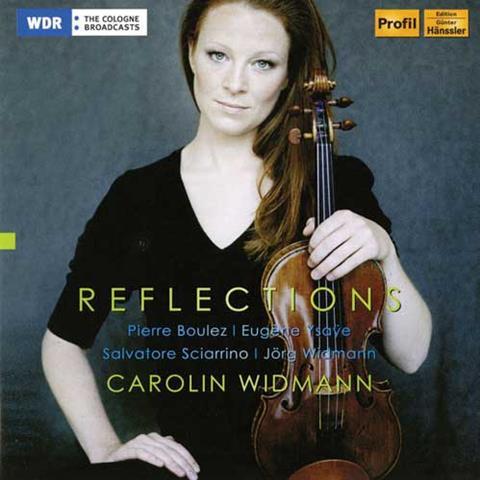 The Strad Issue: January 2015
Description: Violin wizardry in a recital that plays off works from different eras against each other
Musicians: Carolin Widmann (violin)
Composer: Boulez, Ysaÿe, Sciarrino, Widmann
Response to Carolin Widmann's Ysaÿe is inevitably coloured by the modern works that surround it – maybe her own playing is, too. In light of what's to come, Boulez's verse–refrain play with trills and tones is positively restrained. Only Thomas Zehetmair and a few others have sharpened the manic edge of the Bach-obsessed Ysaÿe Second Sonata as she does, thinning down her tone to a glinting blade, and Sciarrino's otherwise wispy little Capricci become studies in sonority after the manner of Ysaÿe's 'Dance of the Shadows'. Widmann gives full, Brahmsian weight to both the Fourth Sonata (written for Kreisler) and to the first of three studies by Jörg Widmann, her brother.
We may take it that her performance of these pieces is authoritative given that she supplied the fingering for the score (and since this recording was made in 2005, Jörg Widmann has composed another three studies for her). She scales giddy heights of technical challenge with the second, a three-voice chorale that requires her to sing along with herself. The third is a staggering six-minute moto perpetuo apparently owing as much to Hendrix as Paganini. Feats of prestidigitation generally leave me cold whether they involve cards, rabbits or violins, but hats off to Carolin Widmann.
PETER QUANTRILL