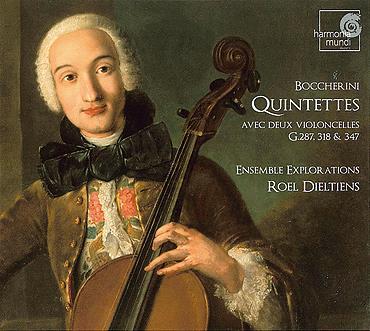 The Strad Issue: January 2006
Musicians: Ensemble Explorations
Composer: Boccherini
The members of Ensemble Explorations are persuasive advocates of these two-cello quintets. Their sensitive and engaging accounts combine energy, clarity and insight with warmth and affection; furthermore, they sound like real performances, not studio patchwork.
Tonally sweet, for the most part, but never cloying; beautifully articulated without a trace of pedantry; and texturally luminous while never inappropriately voluptuous, this is playing of exemplary poise and style. Tempos are thoughtfully determined, rhythms are buoyant and flexible, and the thematic interplay between instruments, particularly first violinist Christine Bush and first cellist Roel Dieltiens in the first movement of the G minor quintet, offers musical conversation and technical bravura of a high level. But all five players are artists of taste and finesse, and their characterisation is always sensitively attuned to the music. Sample their account of the graceful opening movement of G347; their commendable timing and judgement in the minuet-substitute Allegretto smorfioso of the same work; their invitation to the dance in the finale of G318; their exhilarating and neatly dispatched finales, particularly that of G347 with its rumbustious close; their lyrical and often sombre slow movements, not least the contrast between the powerful dramatic unisons and Bush's lamenting solo line in G287; and Bush's pleasing melodic contribution to the Andante of G347, and you will appreciate both the freedom of their interpretations and the striking diversity of Boccherini's invention.
The recorded sound is bold, clear, bright and admirably balanced. And while claims for this music should certainly not be exaggerated, agreeable listening is guaranteed.
ROBIN STOWELL