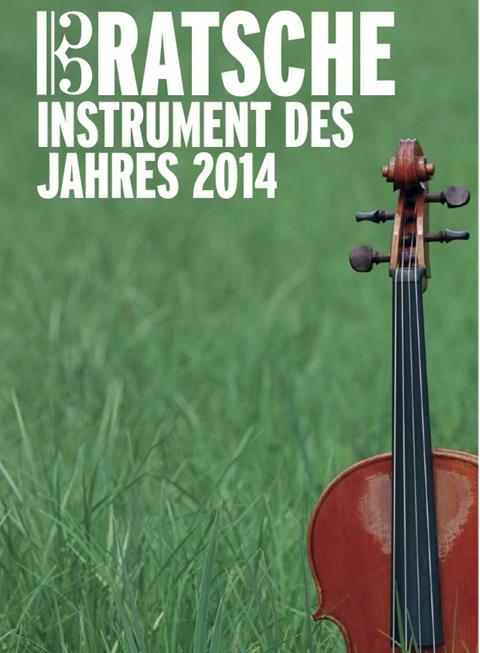 An annual citywide festival in Berlin that spotlights underrepresented musical instruments will turn its attention on the viola next year with a series of concerts, workshops and events at locations across the German capital.
The year-long event, simply called 'Instrument of the Year', launched in 2011 with the double bass and continued with the bassoon, trombone and, in 2013, the baglama – a stringed instrument used in Turkish folk music. Next year's edition, Viola: Instrument of the Year 2014, looks to challenge some common prejudices and misconceptions made about the instrument by showcasing its diversity, repertoire and range.
'The project is aimed at bringing certain instruments into the public consciousness through a series of events,' said Carlos María Solare, president of the International Viola Society and one of the festival's consultants. 'These include luthier demonstrations, open classes, concerts featuring the viola and its literature – within an orchestra, as a recital instrument and as a chamber music participant.'
Hartmut Rohde, professor at the University of the Arts Berlin and an honorary patron of the project, said: 'The viola is not a Cinderella instrument any more. About 20 years ago we caught up with the cello in terms of the quality and quantity of great young players. An enormous amount of works have been composed for the viola over the past hundred years, but still the viola is too little taught at music schools to young musicians starting at age five or nine. It would be better if students could start the viola at an earlier age and not just switch to it at the age of 20 or 25 after a longer violin studies.'
Non-classical events include performances by Berlin-based jazz ensemble Cyminology alongside Berlin Philharmonic violist Martin Stegner; and violist Juan-Lucas Aisemberg and pianist Hugo Aisemberg in a programme of tango music. The future of the viola will also be addressed through children's instrument workshops, crash courses for beginners and masterclasses on playing techniques.
Instrument of the Year is hosted by Landesmusikrat Berlin, an organisation encompassing music institutions and associations in Berlin.
The Strad viola special issues (May 2011 and May 2013) are available to download in digital form.

Subscribe to The Strad or download our digital edition as part of a 30-day free trial.