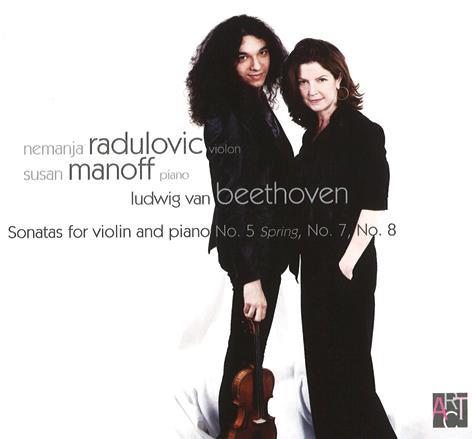 The Strad Issue: January 2011
Musicians: Nemanja Radulović (violin), Susan Manoff (piano)
Composer: Beethoven
There is an operatic tinge to these live performances. Nemanja Radulović's playing has the supple fluency of song, with eloquent and poetic use of vibrato, well matched by Susan Manoff, who has made a speciality of working with singers. They are well matched, too, in the balance between them, and both are well forward in a resonant acoustic.
The drama that they find in the works is manifest, in part, by a rhythmic freedom that some might find occasionally irritating. There are agogic hesitations in abundance to signify significant moments. There is a distinct changing up of gears for the second subject of the first movement of the 'Spring' Sonata, while the contrasting phrases in the first episode of the rondo also have their own separate speeds, as if a dogmatic chorus were urging on a faint-hearted lover.
In full flow their playing is joyful and infectious: the finale of the C minor Sonata surges onward splendidly, its moments of introspective repose all the more effective for the powerful self-confidence all around.
Beware the booklet, in which an imperfect grasp of English is balanced by an imperfect understanding of the original French, giving us, inter alia, five op.24 violin sonatas.


TIM HOMFRAY