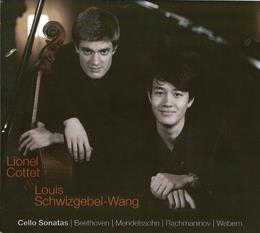 The Strad Issue: January 2011
Description: A convincing cello account of Beethoven's greatest violin sonata
Musicians: Ivan Monighetti (cello) Pavel Gililov (piano)
Composer: Beethoven
Pressure to expand the repertoire on CD inevitably leads to the path of arrangements. So despite having five sonatas and Beethoven's fine transcription of the Horn Sonata, cellists' eyes wander inevitably to the violin's domain. Carl Czerny's arrangement of the 'Kreutzer' Sonata has had plenty of time to establish itself, though I've never been entirely convinced by it. Here, however, any doubts are swept aside, since Ivan Monighetti's fiery advocacy persuades me that it can sound completely idiomatic. The transcription is cleverly arranged so that even the cruelly exposed double-stops of the opening lie well. Monighetti and Pavel Gililov bring all the necessary drive and passion to the first movement, while their interpretation of the Andante offers exquisite tonal control and phrasing. The finale, delivered at a slightly slower tempo than in many violin recordings, is tremendously exciting, and the performance as a whole benefits from a beautifully ambient recording.
A similar level of detail graces Beethoven's 'Bei Männern' Variations, again served with immaculate technical accomplishment and adorned with elegant phrasing. The duo's performance of the D major Cello Sonata may be more contentious in that Monighetti opts for a highly dramatic reading of the first movement. But it's a successful approach, though it's with the rhythmic energy and tautness of the fugal finale that this team really shines.


Joanne Talbot