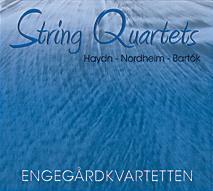 The Strad Issue: January 2011
Musicians: EngegŠrd Quartet
Composer: Beethoven, Nordheim, Bartók
This CD's booklet explains 2L's philosophy of using spacious venues where the engineers can create the most intimate recordings free of the confines created by walls. It is indeed a tangible feature of these performances that they seem so close yet reveal space outside their immediate ambiance. One questions, though, whether, in concert, the young Norwegian quartet would produce such hard pizzicatos in the opening movement of the Beethoven, – or so much detail in the scurrying backdrop in the third movement. The overall interpretation reminds me of the energetic enthusiasm the Lindsays brought to the work, the few rough edges in the scherzo having no detrimental impact on the music's potency.
The players carry the forthright mood over into Bartók's Third Quartet, which receives a trenchant account. Its many changing dispositions are enjoyable, though I am sure they will bring more shape to the structure of each movement with longer acquaintance.
Arne Nordheim's readily attractive one-movement Quartet, effectively the Norwegian's first published opus, flits in and out of tonality. Largely quiet and sombre, it is played with a wide range of muted colours and bright shafts of light, with Juliet Jopling's viola adding a poignant voice in the final section.



DAVID DENTON