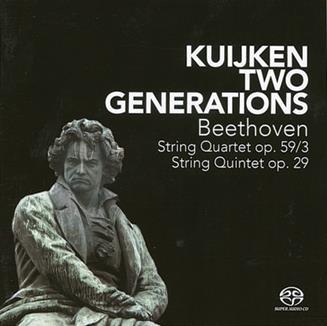 The Strad Issue: January 2008
Musicians: Kuijken Two Generations
Composer: Beethoven
Beethoven in C major? The key may be the same but the works inhabit quite different planes, both effortlessly reached by this amazing dynastic Kuijken group. We have been hearing Sigiswald (violin) and Wieland (cello) in a quartet for years; but more recently they have formed a family group with Veronica (violin) and Sara (viola).
Since their enjoyable Debussy CD (Arcana), Sigiswald has moved to second violin, so Veronica leads. In notes to both discs, Sigiswald stresses that the group does not seek to give 'historic' performances. Indeed, their Beethoven pulses with all the energy of today – and of course Sigiswald played a lot of modern music in his youth.
Having said all that, the playing that we hear is certainly historically informed: vibrato is always restrained, where it is used, and tempos conform to Classical rather than Romantic norms. In the third 'Rasumovsky' Quartet, the sound is always beautiful but there is no lack of intensity, except perhaps in the final fugue, where with my Romantic conditioning I want the players to storm the heavens. Here they merely play very well.
For the Quintet, Sigiswald's wife Marleen Thiers is the second violist. The Kuijkens find an unexpected vein of toughness in the first movement but here and in the finale the timing of Beethoven's humorous effects is delightful. The inner movements are lovely, the Adagio well phrased with characterful pizzicatos, the Scherzo rhythmically alive with a nice lilt to the trio. The group is very well recorded. More, please!
TULLY POTTER