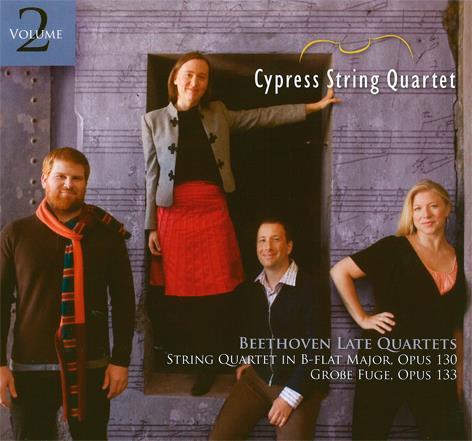 The Strad Issue: January 2010
Musicians: Cypress Quartet
Composer: Beethoven
The Cypress Quartet's second volume in its series of Beethoven's late quartets features op.130 and includes both the Grosse Fuge and the composer's alternative finale. These perceptive interpretations are rigorous and intuitively formed, strong without being overstated, disciplined but flexible; first violinist Cecily Ward has closely overseen their production. However, they do not find a place in my top ten recordings of these works, such is the competition in this repertoire.
The players give a spacious account of the opening Adagio but in so doing adopt a somewhat stop-start manner of delivery; furthermore, their tempos in the various Allegro passages of the movement seem on the cautious side. They perform the ensuing Presto with due energy and commitment and combine some beautifully expressive phrasing with a deliciously light playfulness and joie de vivre in the third movement. They revert to their stop-start approach in the Alla danza tedesca, and their Cavatina, though simply and beautifully executed, does not have the intensity conveyed by many of their competitors. Their Grosse Fuge is full of passion, ruggedness and aggression though seems somewhat laboured, as does their account of the alternative finale; otherwise, ensemble, blend and the closely miked recorded sound are exemplary.



ROBIN STOWELL