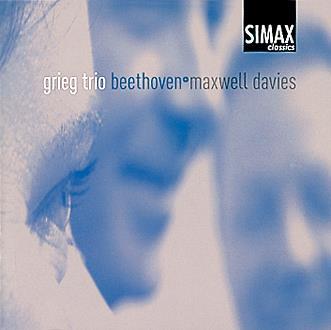 The Strad Issue: January 2006
Musicians: Grieg Trio
Composer: Beethoven, Maxwell Davies
This is one of a series of CDs placing the trios of Beethoven with works by contemporary composers, to display 'both their contrasts and their connections'. Beethoven was constantly innovative in his trios right from his op.1 set, in which he broke from convention by writing in four movements and giving the strings greater independence from the piano. The Grieg Trio takes on the second of the three with relish. The playing is sprightly and full of humour, with delight in the shaping of phrases and Beethoven's unexpected twists. It keeps within classical limits, but abounds in emotional richness and depth.
Although Maxwell Davies's sound world is radically different, the slow emergence of the strings in A Voyage to Fair Isle acts like a transition away from the earlier work, and there is no disorienting contrast. This 20-minute, one-movement work dates from 2002, and was inspired by a visit to the remote Fair Isle for its first-ever music festival. It's a rich and engrossing work, capturing the stark beauty of the place and the liveliness of its music, and is played here with poetry and authority.
The trio plays Beethoven's op.70 no.1 with the infectious vitality it brought to op.1 no.2, but now with a greater breadth and intensity. The slow movement is an emotional tour de force. The sound is warm, forward and nicely balanced.
TIM HOMFRAY