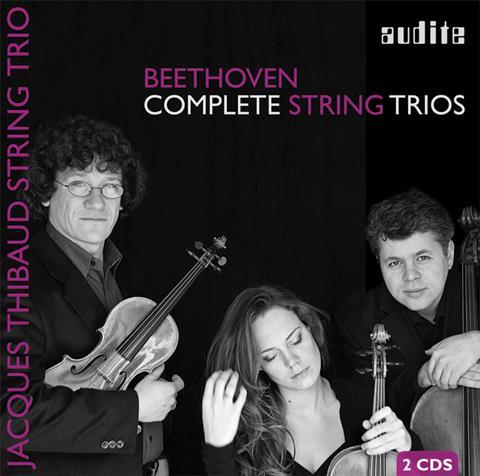 The Strad Issue: October 2015
Description: A late-style approach to Beethoven's early works
Musicians: Jacques Thibaud String Trio
Composer: Beethoven
Before he reached the age of 28, Beethoven had produced five works for that troublesome, ill-established genre, the string trio. The First Symphony (1799–1800) lay in the near future, as did his first string quartets; he would never return to the string trio. The Jacques Thibaud String Trio often appears unwilling to believe that these early works were not from a later period, overlaying them with self-consciously dramatic or colouristic effects – the gruff forte cadences opening op.8's menuetto or the heavy-handed cello interjections in the following scherzo being examples. These effects, though relatively restrained, tend to sound like interlopers from the future and they are underlined by the close-miked sound, which is fine as long as the two lower parts are both conversational; but when they are merely accompanimental they can seem too present in the balance.
What's missing in the playing is a sense of Classical lightness, grace and humour, the Andante of op.3, for instance, losing the rhythmic spark generated by its three-quaver anacrusis and the fleeting minor-key colouring after the second theme becoming overburdened with dark meaning. On the other hand, the Thibaud Trio produces a brisk, sprightly and woody-sounding scherzo in op.9 no.1 and a surprisingly easy-going rondo in op.9 no.2, which even acquires a note of nonchalance in its toppling canonic phrases. The C minor op.9 no.3, the most inherently dramatic of the string trios, is the one that seems to flourish in these players' hands, but overall it feels a touch over-upholstered.
EDWARD BHESANIA