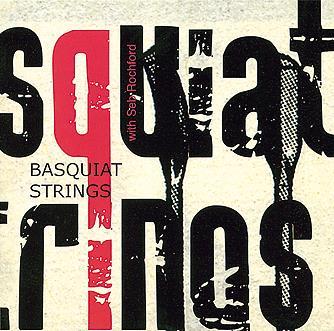 The Strad Issue: January 2007
Musicians: Emma Smith (violin) Vicky Fifield (violin) Jenny May-Logan (viola) Nell Catchpole (viola) Ben Davis (cello) Richard Pryce (double bass) Seb Rochford (drums)
Composer: Various
Basquiat Strings is the brainchild of cellist Ben Davis, and part of the cutting-edge F-ire collective, pioneers of contemporary British jazz. Having played second fiddle in other projects, the group has at last produced this debut album.
Davis cites traditional Hungarian music and Brahms as key influences upon his compositions, and one could, perhaps unsurprisingly, add Bartók to the list. His music frequently falls on the cusp between sumptuous warmth, aided by the bass-heavy balance of the string quintet, and the chilling, post-apocalyptic dissonance of tone-clusters and jaunty, raucous violin lines. Bite and cohesion are provided by some sophisticated groove-mongering, in which interlocking, asymmetrical pizzicato parts are galvanised by the clever addition of Seb Rochford's gently compelling and texturally diverse drumming. Be it the Macedonian tapan of Double-Dares or the hints of grungy blues in Forceful Beast, the music's rhythm is both intricate and propulsive, and good recording ensures that the harmonic and contrapuntal subtlety of the part-writing is never obscured.
The improvisations are not stand-alone demonstrations of virtuosity, but rather dovetail with the surrounding musical fabric, showing these players' collective understanding of the material and of each other. Davis's rhythmic shapes are particularly assured, as he alternates dodging and weaving melodic invention with teased-out cellular ideas, while bassist Richard Pryce possesses a refined arco sound that is perhaps slightly undermixed in his solo contribution. Yet it is the performance of what Davis has penned that leaves the greater impression, ranging from the upper parts' stylish interpretation of a Messiaen-esque bird theme to the consistently cultured probing [sense?] of the rhythm section. This album has been worth the wait.
Chris Elcombe