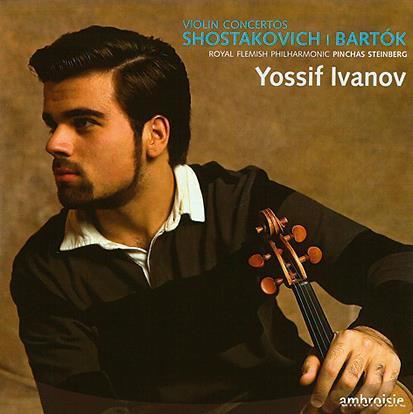 The Strad Issue: January 2009
Musicians: Yossif Ivanov (violin) Royal Flemish Philharmonic, Pinchas Steinberg (conductor)
Composer: Bartók, Shostakovich
Bartók's second is one of the most intractable of violin concertos. Its post-Romantic expressive intensity and cantabile gesturing appear to suggest an emotional kinship with the Glazunov or Tchaikovsky concertos. Yet, as witness even such distinguished exponents as Itzhak Perlman (EMI) and Midori (Sony), this tells only half the story. The concerto's probing harmonic tension and semantic unpredictability also require a modernist sensibility, and this is where 22-year-old Belgian violinist Yossif Ivanov comes into his own. Without in any way underplaying the music's rich palette of primary colours, he reveals subtle hues that often lie hidden beneath accumulated layers of interpretative accretion. Ivanov's Milstein-like tonal clarity and quicksilver reflexes, coupled with an exquisitely subtle use of portamento, encapsulate to perfection the music's tantalising stylistic duality. As a result, he manages to successfully trace the fine line between tradition and experimentation that lies at the heart of this deeply unsettling score.
Shostakovich's A minor Concerto is more straightforward in terms of its almost unremitting bleakness and despair, yet as Baiba Skrida (Sony) recently demonstrated, gentle shafts of light do occasionally penetrate the predominately gloomy musical terrain. Ivanov proves no less perspicacious and resourceful as his gifted Latvian colleague, especially in the headlong burlesque finale, which he nourishes with innumerable deft bow-strokes and phrasal inflections. Pinchas Steinberg and the Royal Flemish Philharmonic complement Ivanov every inch of the way with playing of exceptional detail and finesse, and the engineering accords the soloist just the right amount of recorded weight and presence.


JULIAN HAYLOCK