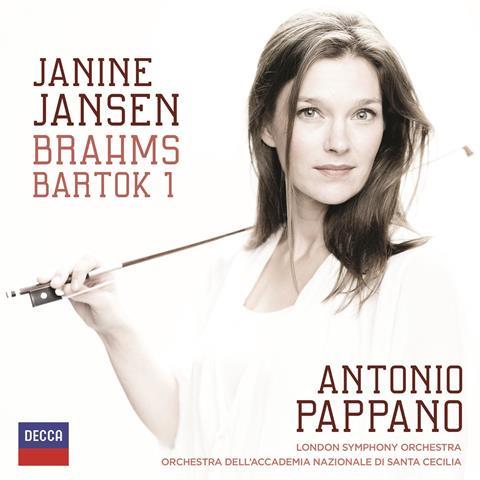 The Strad Issue: March 2016
Description: Celestial sweetness in an odd couple of concertos
Musicians: Janine Jansen (violin) Orchestra of the National Academy of Santa Cecilia, London Symphony Orchestra/Antonio Pappano
Composer: Bartók; Brahms
The connections Janine Jansen makes between these two concertos in the booklet notes may be sketchy but it matters not when you hear the performances. In her first entry in the Brahms, she matches the dramatic purpose set up by Pappano in the introduction and her phrasing throughout is naturally poised. Indeed, there's an immaculate quality to her playing that makes it hard to believe that this is taken from a live performance.
The other feature to stand out is the silvery sweetness of tone in her lyrical playing, especially in the upper register of the instrument. Occasionally she daringly and deliciously allows the music to hang on the finest of threads. The finale is unsurprisingly rugged and inflected with Hungarian folk colouring, but more eye-opening is the purring, slightly tangy wind sonority of Pappano's Rome orchestra in the opening of the Adagio, which returns in the coda, in which Jansen is blissful.
The two movements of Bartók's First Violin Concerto reflect contrasting qualities of the young violinist Stefi Geyer, with whom the composer was deeply infatuated: the first movement capturing a glowing feminine 'ideal', the second reflecting her wit and virtuosic ability. Jansen brings intensity and a celestial aura to the chromatic, slowly winding first movement (an idealised portrait of Geyer), and tracks the extreme mood changes of the second with a certain elfin charm and unerring dexterity. The recorded sound conveys in equal measure the dense textures of the Brahms and the shimmering luminosity of Bartók's first movement.
Edward Bhesania