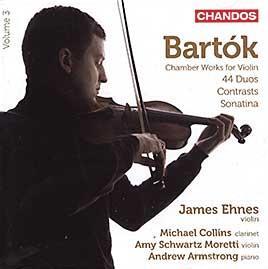 The Strad Issue: January 2014
Description: James Ehnes continues to dazzle in his Bartók series
Musicians: James Ehnes, Amy Schwartz Moretti (violin) Michael Collins (clarinet) Andrew Armstrong (piano)
Composer: Bartók
This third volume of James Ehnes's survey of Bartók's violin music opens with a performance of Contrasts marked by wonderful shaping, particularly in the silky contours of the first movement. The finale is at once precise and infused with devil-may-care exhilaration as the players chase each other's tails, and Ehnes's cadenza pulses with energy. The short Sonatina, arranged by André Gertler from the piano original, is elegant and fun.
The 44 Duos are treated with loving care. In the earlier, technically easier ones, the playing is suitably simple, with beautiful but understated sculpting of phrases. Further in, the 'Cradle Song', a melancholy lullaby with two unorthodox key signatures, has a more marked emotional edge.
As Ehnes and Moretti progress through what is almost a catalogue of Eastern European folk-music styles, the playing is respectful, refined and faithful to every last detail, although the earthiness of its rustic roots is not always in evidence. Some of them, such as the 'Pillow Dance' and the 'Jeering Song', are rather po-faced. But there is captivating, ethereal beauty in the first 'New Year's Greeting' (no.21) and great depth of feeling in 'Sorrow'. The energy levels increase with the complexity of the music: the fourth 'New Year's Greeting' (no.31) is satisfyingly robust, and the various regional dances – Ruthenian, Romanian, Serbian and Wallachian – snap and fizz. The recorded sound is full, with excellent balance.
Tim Homfray